2018 Holiday Store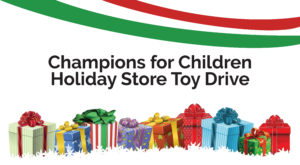 2018 Holiday Store Schedule                                                           
Thursday, Dec. 13: 9am – 12pm, 3pm – 6pm
Friday, Dec. 14: 9am – 1pm
Saturday, Dec. 15: 9am – 3pm
Each year, Champions for Children opens its doors to families served by our programs and invites them to "shop" for gifts for their children at no cost. From December 13th-15th, our Holiday Store offers parents and caregivers their choice of a wide variety of gifts for children from birth to 12 years of age.
If you're interested being a toy collection site, making a donation of cash or toys, or volunteering for this year's event, please email holidaystore@cfctb.org.
Open Volunteer Opportunities
HOLIDAY STORE SET-UP:
Wednesday, December 12th – 9:00 am to 1:00 pm (6 volunteers still needed).
HOLIDAY STORE: Volunteers will assist parents/caregivers during their "shopping experience" by helping them find great toy ideas for their children.  Volunteers also have the opportunity to work in the wrapping room, giving each gift the final Holiday touch!
Saturday, December 15th – 8:30am to 12:00 pm

# of SHOPPERS STILL NEEDED: 7         # of WRAPPERS STILL NEEDED:  7

Saturday, December 15th – 12:00pm to 3:30 pm

# of SHOPPERS STILL NEEDED: 8         # of WRAPPERS STILL NEEDED:  8
HOLIDAY STORE BREAKDOWN:
Saturday, December 15th – 3:30pm to 5:00pm (10 volunteers still needed)
PLEASE DELIVER TOYS BY
MONDAY, DECEMBER 3RD
3108 W AZEELE ST, TAMPA
Our Wish List
Action Figures
Arts and Craft Sets
Balls & Sports Equip.
Bath Toys
Board Games/Cards
Cars and Trucks
Culturally Diverse Dolls
Developmental Toys
Infant Toys
LEGO
Preschool Play Sets
Puzzles & Games
Remote Control Vehicles
Stocking Stuffers
Gift cards are welcome
*Please include batteries, if
needed
*Please no violent toys
(guns, swords, knives)
and no stuffed animals